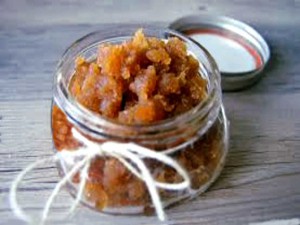 Sweetly exfoliate with Demerara sugar for stimulating your circulation. This no nonsense scrub doesn't waste any time getting down to business to encourage healthier skin.
Scrub and rinse away. You'll be left with smoother, cleaner, radiant skin. So, get scrubbing!
Directions:
Use the sugar scrub twice weekly. Rub into your skin while it is wet, avoiding the eye area or any sensitive area. Rinse with warm water and dry skin as usual. Moisturize with one of our all-natural body whips!
Please note:
Our sugar scrub is made without chemicals or preservatives. To avoid introducing any bacteria into the scrub; we recommend not getting any water into the jar.
Be careful as the oils may make the shower or tub slippery.
Made in the USA
Ingredients: Demerara sugar, grape seed oil, coconut oil, vitamin E & essential oils
Size: 2 oz.Price: $6.95
4 oz. Price $9.95
HOMEMADE BEAUTY PRODUCTS - HEALTHY LIVING
NO
petroleum
mineral oil
parabens
artificial colors
---
Sugar or Salt?
Our fine, granular, demerara sugar provides a gentle exfoliation. Sugar is naturally emollient and a humectant, meaning it draws moisture from the environment into the skin which helps soften and smooth your skin. So when you apply products with sugar, they'll actually help hydrate your skin and keep moisture within. Sugar is a natural source of glycolic acid, that penetrates the skin and breaks down the "glue" that bonds skin cells, encouraging cell turnover and generating fresher, younger-looking skin.
Sugar is gentler! Salt scrubs have their own benefit - check out our Dead Sea Salt Scrub!
Write a review
Your Name:
Your Review:
Note: HTML is not translated!
Rating: Bad Good

Enter the code in the box below: