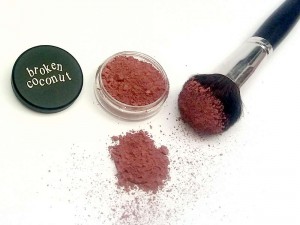 BLUSH
Blush gives your skin a healthy look and feels natural.. because it is! You can create a natural radiance.. a subtle or gilded look with our mineral-based ingredients. Our mineral makeup goes on flawlessly and provides all-day coverage!
Proudly free of parabens, binders, fillers, talc, dyes, corn starch, bismuth oxychloride, nano particles, or synthetic chhemicals.
THE SIMPLE MINERAL MAKEUP FORMULA! Mica, kaolin clay, zinc oxide, titanium dioxide & iron oxides.
MADE IN THE USA
Ingredients: Sericite mica, kaolin clay, zinc oxide, titanium dioxide, iron oxides.
Actual weight: 3 grams in a 20 gram container Price: $8.95
Actual weight: 5 grams in a 30 gram container Price: $ 11.95
Sample: $ 2.00 Actual weight: .25 gram
---
TIP
Tap a little mineral blush into the lid. Lightly dip your brush into the lid.
Tap excess powder off the brush until there is just a hint of color on the tips of the bristles.
Gently glide over the cheeks sweeping from the area in front of the ears to your cheek bone.
Remember.. go light.. you can always reapply!
Write a review
Your Name:
Your Review:
Note: HTML is not translated!
Rating: Bad Good

Enter the code in the box below: