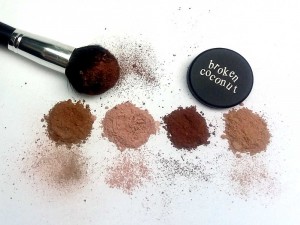 Brand:
broken coconut
Product Code:
BC-FOUNDATION
Availability:
In Stock
Foundation
For a fabulous "no make-up" look. Broken Coconut's formulation is light and stays on all day! It is non-comedongenic and has been developed to avoid clogging your pores.
Beautiful mineral makeup that mattifies skin, blurs the look of pores and imperfections. Our MATTE loose powder foundation SPF 15 is a clean, 100% vegan formula, so your skin stays fresh and flawless looking.
Proudly free of parabens, phthalates, binders, filllers, talc, dyes, corn starch, bismuth oxychloride, nano particles, fragrance, or synthetic chemicals.
THE SIMPLE MINERAL MAKEUP FORMULA!
Mica, kaolin clay, rice powder, zinc oxide, titanium dioxide & iron oxide.
MADE IN THE USA
Actual weight: 3 grams in a 20 gram container Price: $ 8.95
Actual weight: 5 grams in a 30 gram container Price: $ 11.95
Sample: $ 2.00 Actual weight: .25 gram in a 5 gram container
---
TIP
The best "mineral make up look" can be achieved by using the correct brushes and method.
A kabuki brush is a little more densely packed and is ideal for mineral make up.
It is very important that you do not dip directly into the jar, as it may go on too heavy. Tap a small amount in the lid. Lightly dip your brush into the foundation, tap any excess powder.. and apply!
Use sparingly, as mineral make up is extremely concentrated. A little goes a long way. You can always reapply!
Be patient! If the mineral make up has a streaky appearance. You may have not waited for your moisturizer to set in first.
Write a review
Your Name:
Your Review:
Note: HTML is not translated!
Rating: Bad Good

Enter the code in the box below: