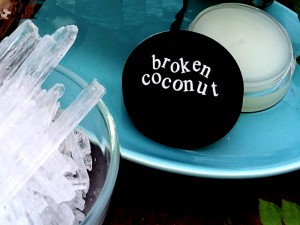 Product Code:
BC-Goose Balm
Availability:
In Stock
GOOSE BALM
Broken Coconut's Goose balm is a mentholated topical remedy made from a combination of natural ingredients. Dab a bit of Goose Balm at the opening of your nostrils (not the tender inside membrane) for breathing better temporarily.
4 grams - 6.95 each
INGREDIENTS: Coconut oil, Beeswax Beads & Menthol Crystals.
​ For topical use only. Do not use on broken skin. Keep away from eyes. Not intended for children under 5 year old.
FDA Drug Safety Communication
If you experience pain, swelling, or blistering of the skin where an OTC topical ointment was applied, stop using the product and seek medical attention immediately. These products should not cause pain or skin damage. These products produce local warmth or coolness.
When applying OTC topical ointments to the skin, do not bandage the area tightly and do not apply local heat (heating pads, lamps, hot water in bags or bottles) because doing so can increase the risk of serious burns.
Disclaimer: The information on our website is NOT intented to diagnose, treat, or cure. For any medical concerns, please consult your medical professional. Broken Coconut is not making any medical or therapeutic claims. We are sharing the personal experiences of many happy customers.
Write a review
Your Name:
Your Review:
Note: HTML is not translated!
Rating: Bad Good

Enter the code in the box below: