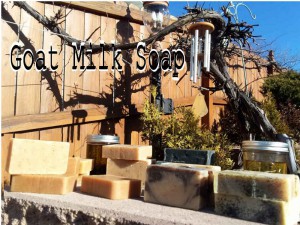 Product Code:
BC-GoatMilkSoap
Availability:
In Stock
Goat Milk Soap
The benefits of goat milk are legendary! Our goat milk soap is a wonderful addition to your natural skincare routine. Hand made through the "cold-processing" method of soap making - only the finest ingredients are used and care is taken to make sure every step of the process is done to the highest standards. The bars are lightly scented with essential oils.
We sooo appreciate all your love for our Goat Milk favorites! Sometimes we have an unexpected demand and our soaps fly off the shelf! And soap making teaches us patience, as the curing time is about 6-8 weeks for the soap to dry. We try our best to let nature do it's thing!
All of our Goat Milk soaps are great for your face!
Wild Berry - A deeply delicious scent of cranberries kissed with sweet plums, what's not to love!
Coconut Crack Get up close and personal with our activated charcoal soap and see what happens! Activated charcoal is known to detox without drying.. so nice! A perfect companion to be sure!
GOAT Our sweet figgy smells amazing and is made with crushed walnut shells for a gentle exfoliant. Get one for yourself and another for your BFF!
Lavender Bud - Our lavender bud speckled soap will pamper you to the hilt and make you feel like you are at a spa!
Mintoholic - Absolutely and totally inspired by our summer garden of fresh herbs! This soap smells heavenly fresh and is sure to lift your body, mind and spirit!
Patchouli Drench - The light earthy scent of patchouli will conjure up everthing you love! Our patchouli oil bar is still a popular sell-out - the 60's "groovy" oil!
Oatmeal Milk & Honey - Unscented Goat milk soap is especially perfect for sensitive skin and this bar was made with that in mind. Similar to all our goat milk soaps, it is gentle and moisturizing. Our Oatmeal Milk & Honey bar is without added essential oils.
Eucalyptus & Tea Tree - We pair two of nature's wonder plants for an invigorating fresh scent from down under.
Hunter The Man's Soap - The warm outdoorsy scent of cedar and cypress in this sudsy bar is for the rugged and snazzy guy!
Our bars are hand-cut and weigh approximately 3.5 - 4 ounces each.
Ingredients: Organic Olive Oil, Organic Coconut Oil, Goat Milk, Avocado Oil, Apricot Oil, Sustainable Palm Oil, Sodium Hydroxide, Grapefruit Seed Extract, Vitamin E, and Essential oils. May contain activated charcoal, crushed walnut shells or dried peppermint leaves.
Our hand crafted soap is made in small batches; may vary slightly in color from batch to batch & each bar is unique.Our handcrafted soap needs six weeks to cure. Please call for availability.
We keep it real! Our soap is free of artificial fragrances.
CRUELTY FREE
PARABEN FREE
DYE FREE DETERGENT FREE
DID YOU KNOW?
Triclosan is one of the most common chemicals used in 75% of anti-bacterial soaps and washes. It is already banned in the EU and is currently undergoing a review by the US FDA. Allison Aiello, professor at the University of Michigan's School of Public Health says, "the risks outweigh any benefit associated with these products right now."
Disclaimer: The information on our website is NOT intented to diagnose, treat, or cure any skin condition. The intention is to be informative and relay experiences of those who have had success with our products. For any medical concerns, please consult your medical professional.
Write a review
Your Name:
Your Review:
Note: HTML is not translated!
Rating: Bad Good

Enter the code in the box below: