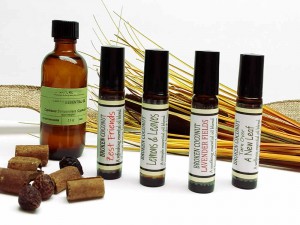 Product Code:
BC-ESSOILS
Availability:
In Stock
Essential oil Roller-on Blends
100% PURE Therapeutic Grade Essential Oils in beautiful blends!
Distinctive blends for many uses including grounding, clarity, restoring balance & energy.
Apply to temples, back of neck, shoulders, behind the ears, pulse points and wrists.. & simply breathe in.. so nice!
ZEST FRIENDS
An uplifting blend to amplify creativity, keep you on task and improve concentration.
Essential Oils: Sweet orange, Lemongrass & Spearmint
LAVENDER FIELDS
A calming blend that promotes a deep sense of peace, dampen tensions & uplift spirits.
Essential Oils: Lavender & sweet majoram
Turn over A NEW LEAF
A powerful anti-bacterial and invigorating blend formulated for a clear mind, mental alertness and to promote respiratory health.
Essential Oils: Euclyptus, Tea Tree & Cinnamon
LEMONS & LEAVES
A refreshing blend to promote mental alertness and strengthen your immune system.
Essential Oils: Peppermint, Lavender & Lemon
SIZE: 10 ml amber glass bottle with a stainless steel roller insert & a black cap
INGREDIENTS: 100% PURE Grade Therapeutic Essential oils in a carrier oil of Apricot Oil.
CRUELTY FREE
VEGAN
PARABEN FREE
SYNTHETIC FREE FRAGRANCE FREE
MINERALOIL FREE
Made in the USA
Write a review
Your Name:
Your Review:
Note: HTML is not translated!
Rating: Bad Good

Enter the code in the box below: