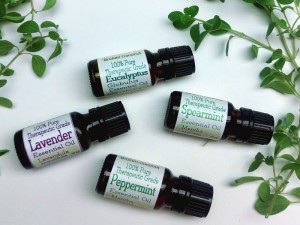 Brand:
broken coconut
Product Code:
BC-ESSENTOILS
Availability:
In Stock
100 % PURE Therapeutic Grade Essential Oils
Essential oils are the "oil of the plant" from which they were extracted. Essential oils have many uses including aromatherapy in which healing effects are ascribed to the aromatic compounds in essential oils & other plant extracts.Some of the most exciting research has been done with essential oils and the natural options abound! The aromatic benefits encourage you to enjoy healthy habits & support one's own self-love!
Lemongrass Essential Oil Lemongrass has high levels of iron & is loaded with B-vitamins. This organic compound has potent antibacterial, astrigent, antipyretic, anti-inflammatory and antifungal properties. One of the most recognized characteristics of lemongrass oil is its ability to promote feelings of peace and tranquility. $ 8.95
Peppermint Essential Oil The health benefits include it's ability to treat indigestion, respiratory issues, and eliminates nausea & headaches. It has the presence of menthol, menthone & menthyl esters. The scent invigorates the mind and the senses. $ 7.95
Eucalyptus Essential Oil Eucalyptus leaves have powerful medicinal properties. It is antesptic, antibacterial, antifungal, antimicrobial, antiviral, anti-inflammatory and decongestant in nature. The benefits are due to its harmonious effects of multiple healing agents working together. $ 7.95
Spearmint Essential Oil The scientific name of this cooling, refreshing oil is Mentha Spicata. This oil has wonderful benefits to provide relieft from headaches & stress, works as antiseptic for wounds & ulcers, helps improve concentration, helps treat asthma & relaxes nerves & muscles. $ 8.95
Lavender Essential Oil Lavender essential oil comes from the flower of the same name. The essence smells of soft blossoms, sweet hay & warm summer air. Lavender reduces anxiety & emotional stress, improves sleep, restores skin complexion, improves eczema and has anti-oxidant protection. Lavender can be applied topically. $ 9.95
Grapefruit Essential Oil The grapefruit aroma is clean, uplifting, fresh, slightly bitter & very citrusy! Some of the health benefits of grapefruit.. particularly good for treating oily skin & blemishes, aids in depression & relieves stress, ensures healthy function of the lymphatic system and boosts imune system & stimulates the brain. $ 11.95
Citronella Essential Oil A popular, strong citrus scent, being a relative of lemongrass. It is one of the most widely used oils in aromatherapy with a wide range of health, skin & hair benefits and a good insect repellent! $7.95
Frankincense & Myrrh Essential Oil A wonderful rich blend that has a beautiful strong, herbaceous woodsy pine, and sheer musk, with a hint of patchouli and vanilla scent. $16.95
Pettigrain Essential Oil An oil extracted from the bitter orange plant, it has a bright, orange scent, with a woody undertone that can contribute to a new sense of self-confidenence. $7.95 OUT OF STOCK
Patchouli Essentail Oil The "hippie" oil! A strong, dark earthy, green, slightly sweet, unmistakeable scent that has a "love" or "hate" audience! $8.95 OUT OF STOCK
Rosemary Essential Oil A distinctive woody fragrance, infused with cedarwood, eucalyptus, and thyme tones. A versatile oil with powerful, incredible benefits, from mental to physical; from the garden to skincare! $11.95
Bergamot Essential Oil An inedible, tiny, bitter orange citrus fruit. The finest of the citrus notes! The essence comes from the same rind that gives Earl Grey tea its distinctive smell and flavour. It creates a feeling of freshness, joy and energy! $11.95 OUT OF STOCK
Ylang Ylang It comes from the fresh flower petals of the ylang ylang tree. It is a very pleasing and delicate aroma, and is used in a variety of medicinal purposes; such.as depression, relaxed feelings, and lowering blood pressure. $15.95
Tea Tree Also known as melaleuca, is an essential oil with a fresh camphoraceous odor. It is well-known for it's antimicrobial and antiseptic properties. It has numerous uses; diffusing it in the air to kill mold, apply topically to heal skin issues and treat viral infections. $8.95
ESSENTIAL OIL BLENDS
Calm - A blend of Lavender, Peppermint, Tulsi (Holy Basit), Marjaram & Cypress. The aroma is calming, relaxing, balancing and invigorating at the same time. $11.95
Fresh - A blend of Citronella, Lavender, Lemongrass, Rosemary and Tea Tree. This beautiful neutralizing essential oil blend works together to keep the air fresh in your home or at work. $ 9.95
Energized - A blend of Lemongrass,Mandarin, Grapefruit, Bergamot, and Spearmint. This refreshing and harmonious blend merges the benefits of citrus essential oils with a hint of spearmint. $ 10.95
Nature's Well-Being - A powerful combination of Clove, Lemongrass, Eucalyptus Globulus, Cinnamon bark, and Rosemary. A rich, clean scent with a hint of spice, that is antibacterial, supports your immune system, and can purify the air. $13.95
Peaceful Mind - A blend of Mandarin, Orange, Patchouli, Ylang Ylang, and Lavender. A citrus and patchouli scent that promotes a deep sense of peace and emotional well-being and up-lift your spirits. $14.95
Madagasgar Nutmeg Blend - A powerful blend of Ravensara, Eucalyptus, Lemon and Peppermint that treats respitatory disease and infections such as influenza and pneumonia, herpes and bronchitis. Ravensara is from the Island of Madagascar and the Comoro islands and as it's seeds are somewhat similar to nutmeg, it gets the name Madagasgar Nutmeg Blend! $12.95
A diffuser is a great way to get the benefits of essential oils and have fun experimenting to find what energizes you or what calms you.. It's all up to you!
HOW TO USE:
Aromatic: Use in a diffuser.
Topical: Dilute 1 drop / 4 drops of a carrier oil like grapeseed oil. Test on small area of skin on underside of arm. Apply to desire area as needed.
Important: Use all essential oils properly and with caution.
Each essential oil single or blend is in an amber glass bottle with a dropper insert - 10 ml.
Write a review
Your Name:
Your Review:
Note: HTML is not translated!
Rating: Bad Good

Enter the code in the box below: