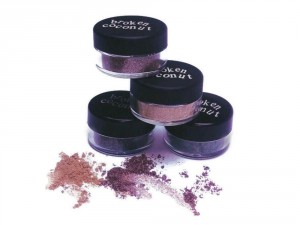 Brand:
broken coconut
Product Code:
BC-EYE-SHADOW
Availability:
In Stock
Create the eye enhancing look you want with our highly pigmented blends of 100% minerals. All Broken Coconut mineral makeup products are made with certified organic FDA cosmetic grade minerals.
Our naturally formulated mineral makeup is better for your skin, because it is not petroleum or mineral oil-based, or contain other ingredients such as talc, corn starch, bismuth oxychloride, or dyes that can possibly block your pores and irritate your skin.
Ingredients: Sericite mica, magnesium myristate, rice powder, zinc oxide, titanium dioxide, iron oxide.
2 grams - $ 7.95
.25 gram - $ 2.00
---
TIP
Tap a little mineral eye shadow into the lid. Lightly dip your brush into the lid. It's very important that you do not dip right into the jar, as it may go on too heavy. Tap excess eye shadow off the brush until there is just a hint of color on the tips of the bristles. Gently sweep over the eye lid.
For a more intense color, lightly dampen the applicator first, tap over the jar, so the excess falls back into the jar. Brush firmly over the eyelid and work your magic!
Remember.. go light.. you can always reapply!
The best "mineral makeup look" can only be achieved by using the correct brushes and the right method. The technique for using mineral make up is not the same as using regular makeup. We suggest that you use a kabuki brush for applying mineral makeup. It is a little different from a regular brush, as it is more densely packed.
Write a review
Your Name:
Your Review:
Note: HTML is not translated!
Rating: Bad Good

Enter the code in the box below: