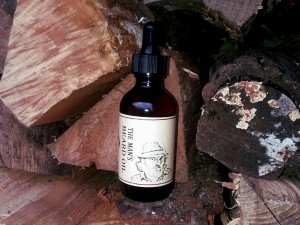 Product Code:
BC-BeardOil
Availability:
In Stock
The Man's Beard Oil
There's just something about a well-groomed beardsman that makes you want to cozy up! Our Beard Oil is made with the finest blend of easily absorbed pure oils to keep your beard and mustache looking manly!
A little goes a long way. Lightly coat our beard oil from the root to the ends.. to ensure your "man mane" is well nourished and presentable.
According to some experts, the best time to apply beard oil is right after washing your face. However, some swear by applying the beard oil right before they head to bed at night, giving the natural oils time to really absorb into the skin. Our suggestion; see what works best for you!
Absolutely no toxins, fillers, chemicals, artificial fragrances, dyes or parabens.
2 ounces - $ 17.95
Anti-Aging Oils: Neroli Oil, Elemi Oil, Sea Buckhorn Oil, Rosehip Oil, Carrot Oil, Cypress Oil
Carrier Oils: Organic Ococnut Oil, Avocado Oil, Apricot Oil, Shea Butter
Natural Preservatives: Vitamin E & Grapefruit Seed Extract
Grapefruit Seed Extract is used as a natural preservtive, formulated from both the seeds and the pulp of grapefruits to protect the Daily Face Serum, against bacteria and fungus. It is a powerful broad spectrum citrus based anti-microbial that possesses strong antiseptic, germicidal, antibacterial, fungicidal and anti-viral properties.
Write a review
Your Name:
Your Review:
Note: HTML is not translated!
Rating: Bad Good

Enter the code in the box below: